Water damage: Drying vs. Removal
8/3/2021 (Permalink)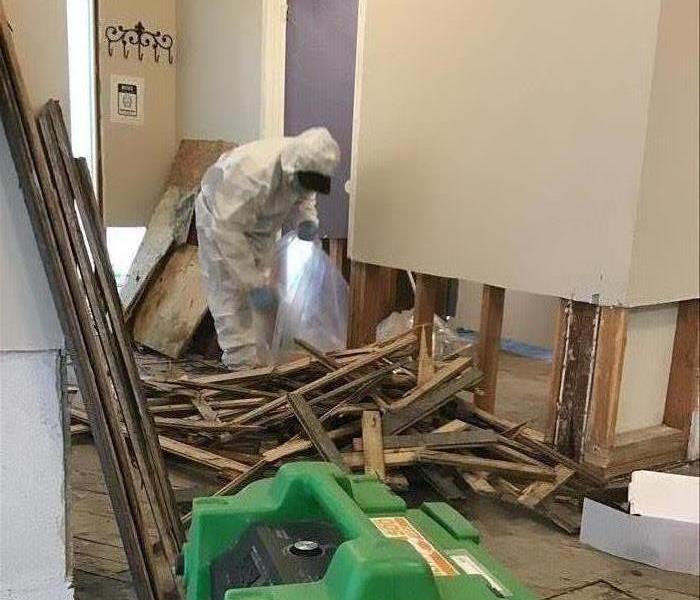 SERVPRO South Pasadena/San Marino is well versed in water damage/loss. We specialize in assessing what restoration approach to take when it comes to water damage? In all cases, this depends on the significance of the damage. Are there different methods? The short answer is yes, but every job is different and we tailor the services specific to each job. The basic decision is if we want to attempt to dry the building materials in place or do we have to open up the walls and remove flooring?
Drying
When it comes to smaller damage i.e. one or two walls of a room, we use a drying method. We fix the air movers on the moisture spots and set up the dehumidifiers. What this does is two things, the air movers suspend the moisture in the air and the dehumidifiers condense the moisture so it can be drained it out of the area. In extreme cases, SERVPRO South Pasadena/San Marino might remove the baseboard and drill holes in the drywall in order to dry the moisture in between wall cavities. After 3 days if there is no progress, SERVPRO has to "flood cut" the Drywall to accelerate the drying process. If the building materials don't dry fast enough, there is an increased risk that mold could start growing in the wall cavities.
Removal
If saturation of the water is has risen more than two feet up the walls, this affects the whole room. Then we perform what's called a flood cut. In this case, SERVPRO South Pasadena/San Marino would cut out all the drywall two feet around the entire room.
Bonus: Insulation can be saved if it's only moist. If it's wet, then it has to be removed also.
SERVPRO of South Pasadena/San Marino is clearly the best choice you can make when it comes to any restoration or water damage needs and we service all areas throughout the Los Angeles, Orange, and San Bernardino Counties. Call us now for your water loss.