Becoming Familiar With Water Damage
3/4/2021 (Permalink)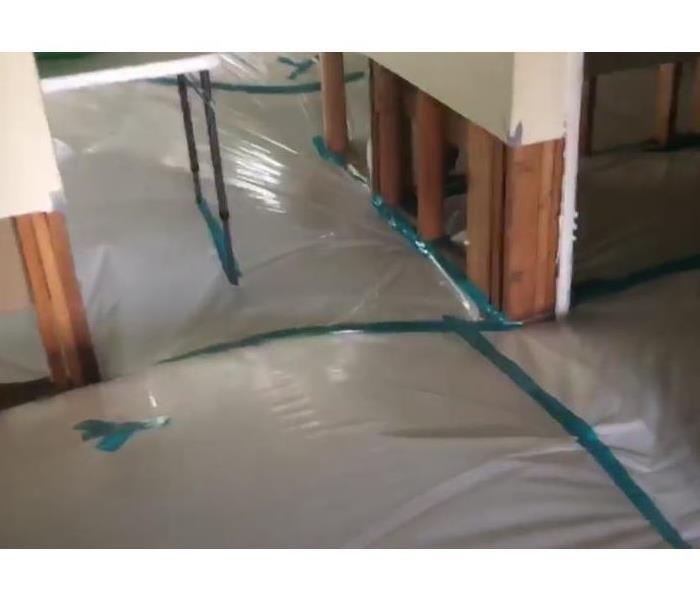 If you do experience a flood, our technicians will place plastic on top of the affected areas to dry it out
With the rainy season upon us, it is important to be familiar with water damage.
Water Damage Dilemma
Sudden water damage to your home can be incredibly frustrating. If you find yourself in a situation where water is suddenly onboarding in your residence, immediately call SERVPRO of South Pasadena and San Marino. They are available 24 hours a day, 7 days a week. Owner, Joe McCann, is always just a phone call away.
Until the water restoration professionals are SERVPRO arrive, there are a few things you can do to help with damage to your house, condo, or apartment.
Tips To Protect Your Possessions
Move anything of value out of the affected room that you are able to: photos, important documents, artwork, etc. Take old books, or pieces of scrap wood and use them to elevate your furniture. Place wood, books, or even brinks underneath the feet of your furniture to raise them above the waterline. This will help prevent any fabric or wood damage to your couches, chairs, tables, and other furniture of value.
If you own a Shock Vac, use it to help remove water that has a puddle in your home and help prevent further damage to your carpet or hardwood flooring. Open windows in your home, and turn on any ceiling fans. This will help start the drying process. If you do not own a Shock Vac, perhaps a neighbor can loan you one.
Take pictures of all the damaged areas. This includes walls, baseboards, carpets, hardwood flooring, and all valuables. This will be important to turn into your insurance company when you file your claim.
Remember SERVPRO of South Pasadena/San Marino
Always remember that SERVPRO has a staff of qualified professionals to answer any and all of your questions. Not only will they help you with your water damage, but they are also qualified to help with mold prevention and remediation. Joe McCann has a plethora of water restoration knowledge!